Border Express Invests $13 Million in Cutting-Edge Fleet Upgrades
18 October 2023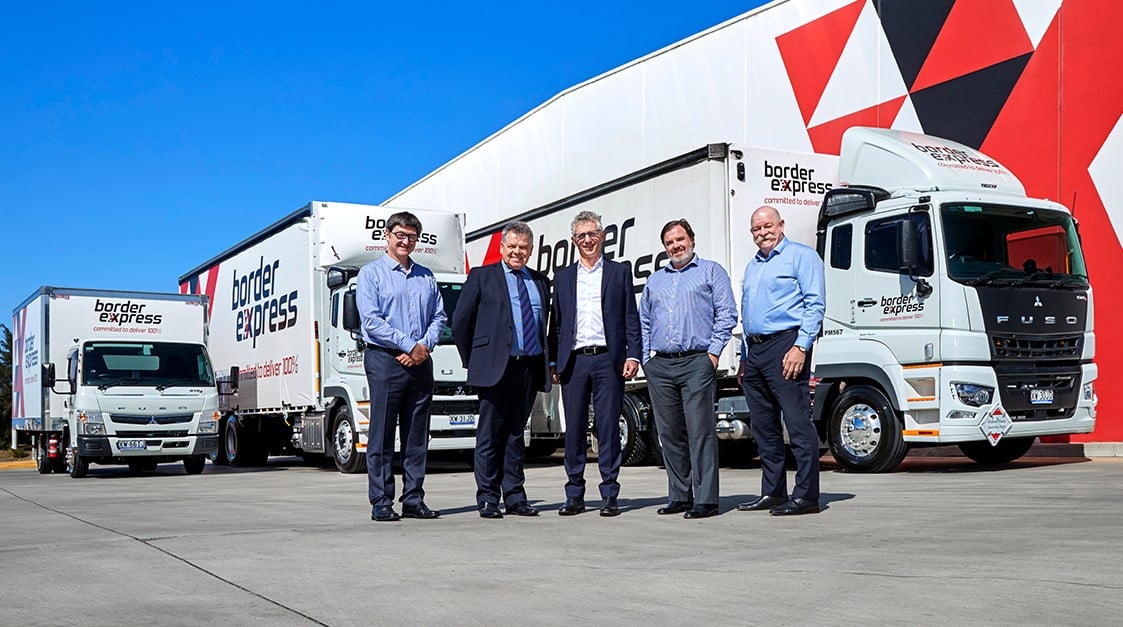 In a significant move towards enhancing our operations and reducing our environmental footprint, Border Express has recently made a $13 million investment in upgrading our local PUD (Pick-Up and Delivery) fleet across Australia. This substantial investment indicates our commitment to staying at the forefront of the logistics industry and aligning with the evolving demands of driver safety and emission control.
The Impressive New Fleet
The fleet upgrade comprises 78 brand-new Fuso trucks, meticulously selected to meet the company's stringent requirements. The diversified and upgraded new members of our fleet includes:
15 x Canter 6 Pallet Parcel Trucks: These agile and versatile vehicles are designed to handle smaller cargo loads efficiently. They play a crucial role in our last-mile delivery operations.
36 x Fuso Shogun 360 14 Pallet Rigid Tautliners: These medium-duty trucks provide the perfect blend of payload capacity and maneuverability, making them ideal for a wide range of transport tasks. Tailgates have been fitted on a high number of this class of vehicle.
24 x New Fuso 510 Prime Movers: Prime movers are the workhorses of the road transport industry, and our investment in these powerful vehicles demonstrates their commitment to efficiency and reliability.
2 x New Fighter 10 Pallets Rigid Tautliners: The Fighter series offers robustness and flexibility for handling various types of cargo.
1 x Fighter Crane Truck: This specialised vehicle is equipped with a crane for lifting and loading heavy or awkwardly shaped items.
A Careful Selection Process
Before making this substantial investment, we conducted a thorough evaluation of proposals from several leading truck manufacturers. The primary selection criteria were driver safety and emission control, reflecting our commitment to employees and the environment.
The Fuso fleet of vehicles emerged as the top choice, scoring the highest overall ratings in these critical categories. Fuso's reputation for producing high-quality, reliable, and environmentally friendly vehicles played a pivotal role in securing this partnership.
Environmental Commitment
Border Express takes its environmental responsibility seriously. As part of our fleet upgrade initiative, over half of the newly acquired Fuso vehicles are Euro VI compliant. Euro VI is the latest and most stringent European emission standard, which translates to significantly reduced harmful emissions and a positive impact on air quality.
The only exception to this Euro VI compliance is the single Fighter Crane Truck, which adheres to the Euro V standard—a commendable choice nonetheless, considering the industry's transition towards greener alternatives.
Additionally, the Canter 6 Pallet Parcel Trucks adhere to emission standards ADR 80/03, which are equivalent to Euro V. This commitment to reducing emissions showcases our dedication to sustainability and contributing to a cleaner environment.
Delivery Progress and Future Plans
Over half of the new fleet has been successfully delivered and integrated into our daily operations, marking a substantial step towards optimising their logistics capabilities. The remaining vehicles are scheduled to arrive before the end of the calendar year, ensuring that the entire new fleet will soon be operational.
The fleet upgrade is just one part of our commitment to a more sustainable future. Simultaneously, we are investing in a fleet of electric forklifts at our newly constructed Wetherill Park facility in NSW. This move is part of a comprehensive, multi-year plan to transition from LPG (liquefied petroleum gas) to electric-powered material handling equipment.
Our $13 million investment in upgrading our PUD fleet is a testament to our dedication to driver safety, environmental responsibility, and operational excellence. By choosing Fuso as our preferred manufacturer and prioritising the reduction of emissions, not only strengthens our position in the logistics industry but also sets a commendable example for sustainable business practices nationwide.
As the remainder of the new fleet is delivered and the transition to electric forklifts progresses, Border Express continues to demonstrate its commitment to innovation and environmental stewardship. In doing so, we are positioning ourselves as forward-thinking leaders in the competitive world of logistics and transportation.